Stigma
The Marks of the Christ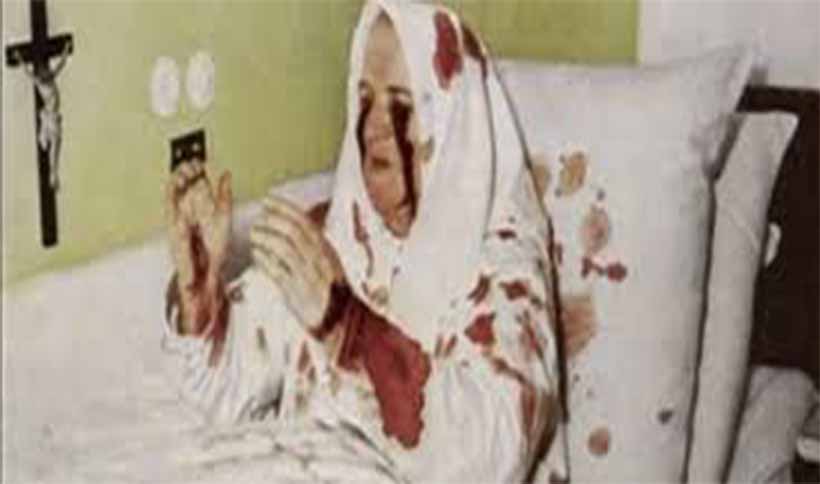 When Jesus Christ was crucified, his hands and feet were pierced with nails. A crown of thorns was then placed on his head, and then he was pierced with a lance. In the centuries that followed, many people claimed to bear wounds similar to those of Christ.
The stigmas of passion
The stigmas (from the Greek word stigma, which means "sting", "point") can take many forms. Sometimes these injuries are just bruises or skin discolouration, but these marks can also be extremely painful ...
Indeed, it is often open wounds that occur for some time. In other cases, these wounds never heal, without ever festering or getting infected. The phenomenon of stigmatization concerns almost exclusively Catholics and, for the most part, women.
Who are the bearers of stigma?
Eighty people affected by stigmata have so far been canonized. However, in the eyes of the Church, the presence of stigma is not alone a criterion of canonization, and other factors are also taken into account.
ADVERTISEMENT
In many cases, the authenticity of stigma is reported by unreliable historical sources. In some cases, the mention of stigma probably symbolizes a close relationship between the person concerned and Jesus Christ.
Thus, the apostle Paul is one of the first people to speak of these "marks of Christ". He evokes them in particular in his Epistle to the Galatians. But it is unlikely that these are true stigmas. On the other hand, the Church recognizes the stigmata of St. Francis of Assisi (v. 1181-1226); these indelible marks would have appeared to him as he meditated on the Passion of Christ.
Explanatory attempts
According to one theory, man is able to influence his body through the mind. It is known, for example, that when placed in extreme conditions, some people can perform superhuman feats, such as lifting extremely heavy objects. The stigmata appearing mainly on Catholics, it was thought that these people were so believing that their bodies were producing their wounds themselves. However, it is argued that a small number of non-Christians also bore stigma.
According to another theory, the people concerned would suffer from hysteria. In other words, these people would have been subjected to a very strong emotion that would have caused the appearance of various symptoms, such as, for example, bleeding. Some researchers have tried to verify this hypothesis by hypnosis. In fact, tested people developed dark spots exactly where they thought they bore wounds.
Real injuries?
Stigmas have also given rise to many mystifications. Thus, if some are content to say that they bear stigma, others will voluntarily inflict wounds to present their scars as proof that they have been "stigmatized". In extreme cases, these mystifiers keep their wounds alive for a while, which can lead to medical complications.
Although the phenomenon is not common, recent examples of stigma have been reported and studied. To date, however, there is no satisfactory explanation for this phenomenon.