Mongolian Sand Worm | Mongolian Death Worm | Monster Worm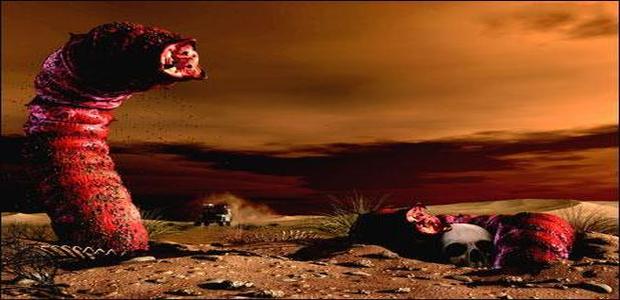 The hostile expanses of the Gobi Desert sands are home to a mysterious monster worm, the olgoi-khorkhoi, the Mongolian death worm, which is said to be able to kill humans and animals from a distance.
A deadly creature roams under the desert sand
The Mongolian sand worm is said to measure between 60 centimeters and 1.20 meters and is described as a corpulent, bright red and reptilian type animal. The people of Mongolia fear this creature and its mere mention is said to bring bad luck. It would spit out a deadly poison killing on the spot and generate large electric shocks.
Czech author Ivan Mackerle was the first to investigate this mysterious case. Mongolian nomads told him that the death worm would be attracted to the color yellow. Thus, they relate the story of a child who had a yellow toy chest. The death worm had slipped inside, and when the child touched it, he died on the spot. The parents only had time to see the tail disappear in the sand. They wanted to suppress the worm, but the cryptid killed them too.
A killer sand viper ?
Speculation is growing around this mysterious creature known as the Mongolian sand worm. One theory considers the killer worm as a desert death adder, namely a killer sand viper. Indeed, the description of the latter resembles that of the Mongolian sand worm, and, in the same way, it spits venom. Given its metabolism, this viper could quite survive in the Gobi Desert, although it is only known in Australia and New Guinea. Skeptics believe that a normal worm would not be able to withstand desert conditions because it would dry out very quickly. Also, either the Gobi Desert shelters a species of viper still unknown and whose aspect and the danger were amplified by exaggerations or superstitions, or the creature is a pure product of the imagination of the nomads, seeking to solve the enigma of these unexplained deaths.