Mogui Cheng China : The Demon City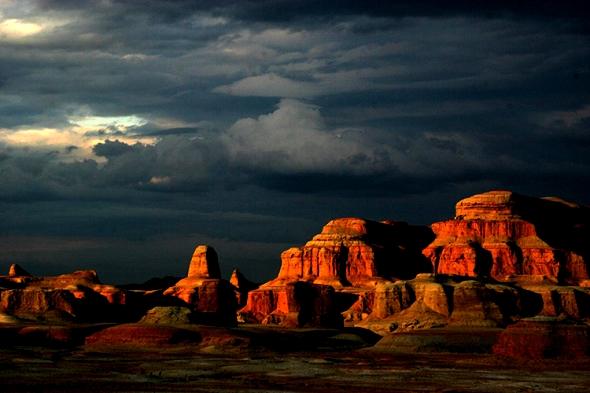 The Demon City comes alive to the rhythm of the sinister winds, in the nights of the inhospitable Chinese desert.
It is in the Chinese Autonomous Province of Xinjiang that we find both the lowest point (in the Taklamakan Desert, 155 meters below sea level) and the highest point (the K2 with its 8,611 meters) from all over the People's Republic of China. In addition, Xinjiang is the most distant land point from the sea on the planet: this point, in the Dzoosotoyn Elisen Desert, is 2,648 kilometers from the nearest coast. A region of the world where nature seems extreme and sometimes unwelcoming. It is a region where the stories and legends of many different peoples come together, all bordering: Mongolia, Russia, Kazakhstan, Kyrgyzstan, Tajikistan, Afghanistan, Pakistan and India. The famous Silk Road passes through this territory where the echo of the armies that crossed it in Antiquity still resonates strongly, as Marco Polo tells in his stories or whoever wrote the exploits of Genghis Khan. Legend has it that one of these armies vanished into nothingness, engulfed by demonic song and a sinister sandstorm. It took place in Urho district, 100 kilometers north of Karamay town, in the eerie ghost town of Mogui Cheng. It is also called the "Wind City of Nuomin" while the Mongols give it the name of Sulumuhak, "the castle of the Specters".
In reality, Mogui Cheng is not a city: it is a desert expanse that covers about 30 square kilometers, a land that gusts of wind and heavy rain have eroded and shaped, creating towering structures reminiscent of the truly ancient castles, towers and abandoned dwellings of a spectral city. But there are also human and non-human faces, terrifying profiles of unknown demons, exactly as they are immortalized - in a masterly way - in the film Crouching Tiger, Hidden Dragon, which won four Oscars in 2001.
Here, the wind blows relentlessly, violent. At night, sand flies, stones collide and terrifying sounds follow through the meanders of the "ghost city". According to local tradition, it is the voices of demons that torment Mogui Cheng or the evil gang of Yanluo Wang, the Taoist deity known to be the guardian and judge of hell. While walking on the noisy pebbles of Mogui Cheng, the lucky ones will find red carnelian stones, also called the "crystal of the oracle" because of its supposed magical properties, allowing seers to look into the past. A past which, for this demon city, means endless loneliness and desolation, but also a completely different story: that of lakes where dinosaurs came to drink millions of years ago, south of the Dinosaur Valley, before the great cataclysm which swept them from the face of the Earth. But this is really a whole different story, though it too has traversed the valleys and peaks of this enigmatic and fascinating region of China.