How Did Antoine de Saint Exupéry Die ?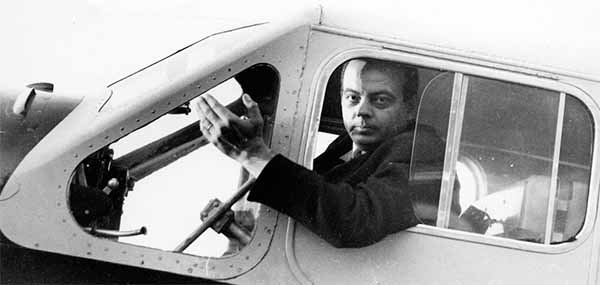 Under what circumstances and under what conditions did the oldest war pilot in the world return to service for a final mission with no return?
After his apprenticeship as a pilot as part of military service, Antoine de Saint-Exupéry leads the life of a social dilettante. Tapped by his passion for aviation, in 1926 he became a pilot at Latécoère to deliver air mail on the Toulouse-Casablanca-Dakar line and befriended Henri Guillaumet, Jean Mermoz and Marcel Reine in what became the famous Aéropostale. Stationed in the Juby Desert, he wrote Courrier Sud, well received by literary critics. Appointed to Buenos Aires in 1929, he reunited there with his friends Mermoz and Guillaumet, made Aéropostale famous by flying over the Andes in epic conditions, wrote Night Flight and met his future wife, Consuelo Suncin. If the disappearance of Aerospace, integrated into Air France in 1933, marked the decline of his airline pilot career, Night Flight prefaced by André Gide earned him the Prix Femina in 1931, a unanimous criticism and material ease.
After three serious accidents as a test pilot with Latécoère, a st exupery will be seen as a daredevil who lost his hand or was bad luck. Lecturer and journalist, he always dreams of an exploit and in 1935 took up the challenge of a Paris-Saigon raid in seventy hours, but the adventure turned into a calvary with an accident in the middle of the desert off Cairo, and Antoine de st is barely saved by the Bedouins when he was almost dying of thirst. Deprived of literary inspiration, he made a living from journalism and then prepared for a raid between New York and Cape Horn, which ended in another serious accident taking off from Guatemala City: coma and multiple fractures. His aviator career seems to be over.
Cursed pilot and famous writer?
It is true that he is capable of all fantasies ... like that of going around in circles in the sky the time to complete a novel before deciding to land, but Saint Exupéry friends are not left out: Mermoz is renowned for his taste of nocturnal and heavily watered parties. In fact, these Aéropostale pioneers are whimsical lords who burn the candle at both ends in a world where the impossible must be achieved for every mission.
A well-known writer, Saint-Exupéry became so with Wind, Sand and Stars (Terre des hommes), which won the French Academy prize in 1939 and also won over the American public.
From the start of the war, thanks to his connections, Saint Exupéry managed to be assigned as a "great reconnaissance" pilot despite the reluctance aroused by his age and his medical record. Exiled in New York, he wrote Flight to Arras (Pilote de guerre) and The Little Prince (Le petit prince).
Fly again ... at the risk of burning your wings!
Back in Algeria in May 1943, he wanted to fight again in the service of a "real France" and found Group II / 33, with which he trained on the ultimate American reconnaissance aircraft, the Lightning P 38: overpowered twin-engine with double tail, which can be piloted alone at an altitude of 10,000 m, without armament to be lighter. The training ended with a failed landing which caused him to be struck off the flight crew for inability to fly.
A long period of depression began for Antoine de Saint-Exupéry. If he returned to favor in March 1944, it was to serve American propaganda: he obtained six flight missions after having undertaken to write a text for Life magazine to symbolize the support of the French intelligentsia for the next intervention of the Americans in France… thus serving Roosevelt and Eisenhower who see in de Gaulle an obstacle to their will to administer the liberated territories.
On May 29, Saint-Exupéry wrote his pensum which paid little attention to the future of Free France. He only dreams of flying and participating gloriously at the end of the conflict and thus fulfills six reconnaissance missions in the south of France to prepare for the Allied landing in Provence. He only miraculously returned from the penultimate mission, on his 44th birthday, getting lost over Lyon forgetting his autopilot, and returning through Italy over enemy areas.
Contract fulfilled before a glorious and final retirement… but he was inadvertently registered for a mission in the Grenoble region. After a trip to Bastia until 3 am, he took off at 8.45 am ... and was reported missing on July 31, 1944, leaving two letters intended for his friends ...
A curb chain found ...
The mystery remains complete until 1998, when a trawler fishes in his nets off the creeks of Marseille a silver bracelet bearing the name of Saint-Exupéry, the first name of Consuelo as well as the name and address of his New York publisher.
Divers found in 2002 a piece of cabin and landing gear ... identified as debris from Lightning P 38. But is it that of Saint-Exupéry? In 2004, confirmation was made near Ile Riou, in front of the creeks of Marseille. Was the accident due to a technical failure or a piloting error? We'll never know...