Story of the Real Legendary Fountain of Youth
Search For The Fountain of Life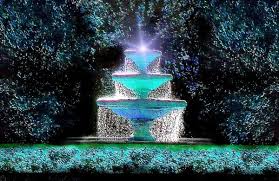 It was in Greco-Latin antiquity that the myth of the Fountain of Youth was born: Jupiter would have transformed a nymph named Juventa (which means "youth") into a fountain capable of rejuvenating anyone who bathes there. Juno went there once a year to keep his youth.
The theme of the Fountain of Youth experienced a prodigious boom in the Middle Ages. From the 12th century onwards, mentalities changed in Christian Europe: it was no longer unthinkable to improve divine creation and, therefore, to improve man. This idea, hitherto daring, is shared by a large number of scholars of this time. The myth of the Fountain of Youth is Christianized all the more easily since Genesis mentions the existence of a Fountain of Life located in the center of terrestrial Paradise, at the foot of the Tree of Life, whose waters separated into four rivers irrigating the world.
Thus, the quest for eternal youth is launched in the West. Alchemy develops and with it the search for the fabulous elixir of youth drawn from the philosopher's stone. The Fountain of Youth is associated with the legend of the Priest John. This imaginary and enigmatic character would have been the sovereign of a distant kingdom full of riches; among them, a fountain whose water restored youth to those who drank three times ...
In the same spirit, the quest for the Grail by the Knights of the Round Table can be read as the search for regeneration, both spiritual and physical, granted by the redeeming blood of Christ.
During the Renaissance, the painter Hieronymus Bosch immortalized it in his painting, The Garden of Earthly Delights. It was also at this time that the great discoveries began. Steeped in medieval legends that placed the Fountain of Youth and Paradise in the East, the first Europeans to arrive in America eagerly sought the miraculous source, especially as Indian stories echoed similar myths. Some thought they found it in Florida.
At the end of the great voyages of the 16th century, the idea that the Biblical Paradise is on earth vanishes and, with it, the belief in the existence of the Fountain of Youth. Nowadays, medical research has taken up the torch of new hopes for eternal youth.