Druid
The Celtic's Spiritual Elite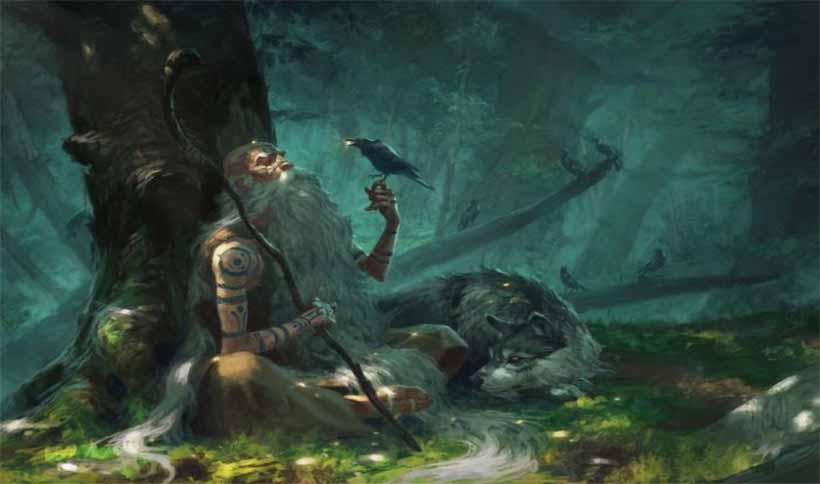 Druids were the legendary priests of the Celts, but also played the role of teachers, teaching mythology and morality to youth. Through observation of the sky and stars, sometimes through human sacrifices, they were able to predict the future. The druidic cult has managed to strive up until today.
The Celtic's spiritual elite
By virtue of their priestly function, druids represented a sort of elite in Celtic society. They were also poets, doctors, astronomers, philosophers and magicians. The information available to us comes from the authors of antiquity. It is not certain that these descriptions of the Druids correspond to what they really were. The representations given by medieval Christianity, especially the most recent ones resulting from esoteric or neoceltic movements, were often the result of a great subjectivity. Even the meaning of the word can not be unequivocally affirmed: "druid" could indeed derive from the celt dru, "thorough", and from uid, "priest", but also from dru, "oak".
Female druids
There are many mentions of female Druids. Celtic myths reveal Mebn von Connacht and Ceridwen. Ceridwen would have been a druidess having concocted a philter capable of giving knowledge of the past, the present and the future. The drink was initially prepared for her son Affagdu so as to compensate for his ugliness through knowledge. The temptation being too strong, her assistant drank three drops and fled, in order to escape her anger. During his escape, he transforms himself into various creatures and objects, ending up in the form of a grain of wheat. Ceridwen then swallows it. She becomes pregnant and gives birth to a second son, considered the ancestor of all druids. According to this legend, the existence of Druidess seems to be proven, whom besides played a central religious function.
Oral tradition as a means of transmission
In his work La Guerre des Gaules, Julius Caesar describes the activity of the Druids. Pliny the Elder presents them as men dressed in white, sporting a gold sickle and mistletoe twigs, and whom, as Celtic priests, enjoyed a flourishing period at the time of the Roman campaigns. Other sources say druids already existed since the days of Stonehenge. Detractors argue that Stonehenge was already a ruin when druids discovered the site. Moreover, based on Roman writings, it seems that druids did not erect temples, but performed their rituals in groves or clearings. These writings also report that Druids transmitted their knowledge to novices in a versified form. Historical sources indicate that it took more than twenty years to rote learn the entire thing. At that time, the Celts were already endowed with a form of writing, but the Druids had a formal prohibition to fix in writing their knowledge of astronomy and natural processes. This is why transmission of knowledge could only be done through oral communication. The rhymed form simplified the rote learning of the innumerable verses. And the amount of knowledge that needed to be assimilated in twenty years leaves one wondering. In a very general way, many works, transmitted orally, were versified. Thus, they could be transmitted easily from generation to generation. For example, it is now known that in the Pacific area, navigation advice for maritime voyages has been perpetuated for several centuries by oral tradition.
neo-Celtic druids
Archaeologist William Stukeley is considered the father of modern druidism. In 1792, at his initiative, a ceremony was held in Wales to celebrate the summer equinox during which the druids were ordained. With nationalist sentiment sprouting, Ireland and Wales no longer regarded themselves as an integral part of England but as independent states with their own language and culture. Condemned to silence, Druids have continued to be associated with secret societies. Today, as a religion, druidism is neo-paganism and neo-whites are part of the tradition of druids.