The Crystal Tears of Hasnah Mohamed Meselmani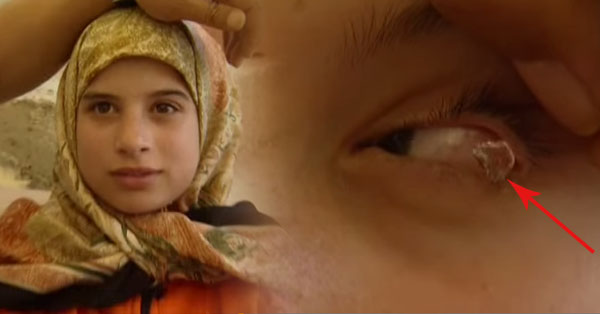 An ancient tale tells the story of a young woman, the good magician Aryuda. She felt rejected because her magical powers aroused jealousy. Disappointed by men and other magicians, she retired to a high mountain to live there alone. Before her sad fate, she began to cry and her tears turned into sparkling crystal. She cried, until her body was completely covered in crystal, until she herself became a crystal statue.
Not only tales ...
The ability to cry crystal tears is not a simple image of fairy tales: it is one of the great puzzles to which science provides no explanation. In March 1996, 12-year-old Hasnah Mohamed Meselmani complained of eye pain. Something stings her, as if she has a pointed object in her eyes. And indeed, to the teacher's amazement, a small drop of crystal, shiny and sharp, appeared in the pupil's eyes. Very surprisingly, her eyes were not injured. And things did not stop there: a few minutes later, her eye produced a new crystal tear, because this is how the witnesses who attended the scene baptized the phenomenon.
Doctors without explanation
Hasnah's father took her to an ophthalmologist, who placed the girl under observation for two weeks. Every day, the latter cries tears of crystal. Doctors were unable to explain the phenomenon, but could only attest to its authenticity. In addition, the tears were so sharp that they could cut paper and scratch glass, but caused no injury to the girl's eyes.
Hasnah Mohamed Meselmani was then examined by another ophthalmologist, Dr. Salomoun from the American Academic Hospital in Beirut. But there, too, the medical team could not find an explanation for this mysterious phenomenon. Dr Nasib El-Lakkis, ophthalmologist surgeon, carried out a very detailed case study, without being able to bring any help. Hasnah's father tries to find help from European and American specialists, but in vain.
The night visit of a white knight
After several weeks of uncertainty and a daily production of tears, Hasnah Mohamed Meselmani told his family that at night someone knocked on her window. When she got up, she saw a knight dressed in white, who invited her to join him outside. One night, the "white knight" would have told her that she was a messenger of God, crystal tears being the proof, and that she should not be afraid, because everything happened according to the will of the Lord. When she asked when she would stop crying crystal tears, he gave her no answer. The divine messenger appeared several times. Hasnah's brother was present on one occasion, but saw and heard only his sister.
Authorities ignore the phenomenon
This case drew worldwide attention. Its Christian aspects bothered the Islamic authorities in place, who silenced Hasnah's father for a tempting sum of money. As a result, all the hype surrounding this appearance was considered a hoax by public opinion and the father was suspected of having placed crystals in his daughter's eyes himself, so as to make himself money.
Anyway, this case is still not clarified today and Hasnah Mohamed Meselmani continues to cry mysterious tears of crystal daily.