Attentat de l'Observatoire : An Attack or a Plot ?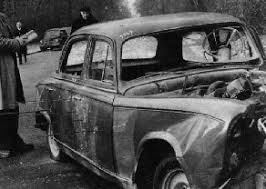 The political climate in this autumn is worrying with the threats of terrorist attack and coup d'etat from supporters of French Algeria. In this context, how can an experienced politician be tricked as a beginner?
It all starts with an incongruous encounter between two former MPs on the opposite side. Robert Pesquet is only an obscure politician, ephemeral deputy, thanks to the support of Michel Debré, under the Gaullist label in 1956 before being definitively defeated under that of the Poujadists in 1958. François Mitterrand, member of eleven ministries under the Fourth Republic, has been a pillar of political life since the Liberation, but he is seen as an opportunist: he already has many enemies on the right, almost as many on the left. Also beaten in the legislative elections, he has just recovered at 43, for lack of anything better, a mandate as a senator and begins his journey through the desert.
Pesquet approached Mitterrand on October 7, 1959 and confided in him that he was mandated to shoot him down by ultras from French Algeria; he begs him not to reveal anything so as not to expose him to revenge from his sponsors. At first incredulous and then unsettled by several threatening letters, Mitterrand ended up believing his interlocutor by making the mistake of keeping the greatest secret, not even informing his relatives. He also fails to glean more information on his designated murderer: he would have easily learned that Pesquet had already been the subject of several complaints for scams ... and that he had even wanted to trap, a month before and in the same way, the former President of the Council, Maurice Bourgès-Manoury. The latter, considering that we do not warn someone that we want to liquidate, had however warned the head of the Sûreté to have a possible testimony, but without disclosing the name of Pesquet, wise double precaution in case of …
Attack or sham?
On the night of October 16, Mitterrand returned to his home. He realizes that he is being followed and leaves his car in the Observatory Square in a hurry to take refuge in the gardens. His 403 was then riddled with a burst of submachine guns that woke the whole neighborhood. Without citing Pesquet's name, Mitterrand tells police he only saw two killers in a small car. The investigation is stalled, the left shows its sympathy for the attacked and mobilizes against "fascism", while Mitterrand sticks to laconic statements, considering that no doubt they wanted to intimidate him, but saying "nothing which could add to the spirits disorder". He thus accredits the impression of a victim reacting calmly like a statesman. He even discreetly meets Pesquet on October 20 to thank him for saving his life.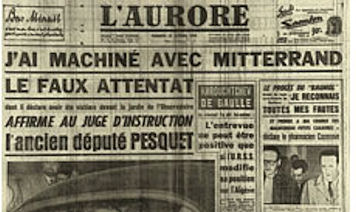 The trap is ripe and Pesquet holds a press conference on October 22, in the presence of Me Tixier-Vignancour, tenor of the bar as well as of the far right. He read to journalists two letters that Pesquet had addressed before the attack… describing the scenario as it actually unfolded and concludes: "It is at Mitterrand's request that this bogus attack was organized" for, he said, to provoke searches in the circles of the extreme right and "to cap Mendes France of a short head in the opinion". Mitterrand, former Minister of Justice, can not oppose any evidence to these allegations and is the object of scandal and sarcasm. He is alone and totally discredited, even among his political friends.
Politics could "kill" ... if the main thing was not to last!
Michel Debré, Prime Minister, calls on the prosecutor to lift Mitterrand's parliamentary immunity in order to charge him with contempt of court. Among the very few opponents of the quarry is François Mauriac, who writes: "In this despicable battle, killing is nothing, dirtying is everything. It is in real politics that Mitterrand will plead his case before a hostile Senate. Forgetting Pesquet, he finds in Michel Debré a suitable target by recalling that the Keeper of the Seals that he was had not requested the lifting of parliamentary immunity ... of a certain Debré who nervously paced the corridors of the chancellery in 1957, protesting his innocence during the bazooka attack in Algiers against General Salan. Deprived of his mandate as senator, Mitterrand was re-elected MP for Nièvre in 1962 and the procedure stalled until amnesty. Pesquet joined the OAS, earning him a 20-year prison sentence, which he escaped by going into exile.
But who were the real sponsors of the Observatory Affair (Attentat de l'Observatoire) ? Mitterrand, convinced by Pesquet that a false attack would preserve him from a real one, and believing that it would gain him new popularity? Tixier-Vignancour or Debré, successively questioned by Pesquet ... - before the latter declared on television in 2002: "I did this all alone" - to create an extraordinary event so that Algeria remains French?
The case is not yet fully elucidated ... the so-called "bazooka" one either.