The Coral Castle Mystery: Secret Marvel of Ed Leedskalnin
The Fortress Of Love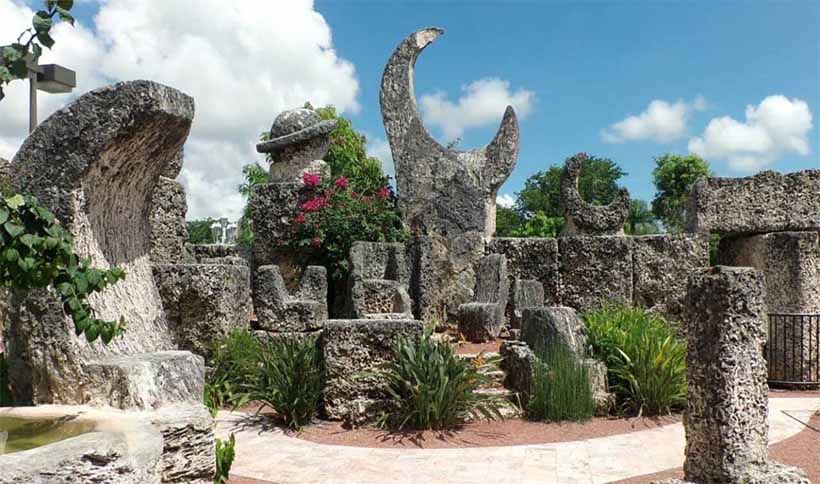 Coral Castle story
Once upon a time there was a 26 year old young man named Edward Leedskalnin, happy fiance of a girl ten years younger, Agnes Skuvst. The story takes place in Riga, Latvia, at the very beginning of the 20th century. The date of the wedding has already been decided when suddenly the girl retracts. Consequently, the rejected fiance decides to reconquer her heart by carrying out a unique piece of work such as only princes and kings can conceive. In order to seduce her forever, he will build a palace, Coral Castle, with his own bare hands.
Ed Leedskalnin therefore leaves his native Latvia searching the ideal place to fulfill his dream of love. He travels all over Europe, Canada and the United States. Arrived in Miami Florida, he understands that his quest is over. He discovers there a particular local rock called coral stone which he will use to build Coral Castle.
Coral Castle construction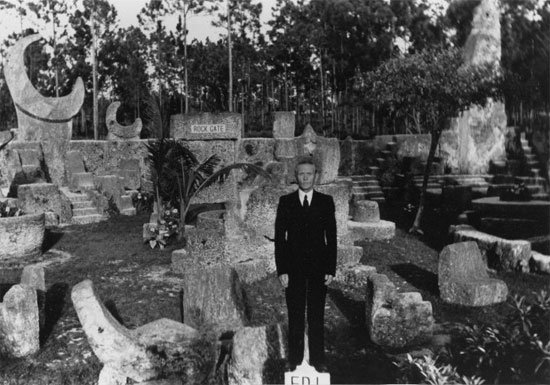 Edward Leedskalnin builds an imposing palace: the walls of Coral Castle are blocks of stone weighing 6 tons each. He also built a fountain representing the lunar phases, each quarter weighing 18 tons. Within the castle grounds, he erected an obelisk 8 meters high and weighing 28 tons, as well as a rocking table and rocking chair that weighs around 10 tons. The very heavy entrance gate pivots thanks to a mechanism of such precision that a very light push is enough to open it.
To build Coral Castle, he would have had to cut, work and move huge blocks of coral stone. How could a single person, no taller than 1.50 meters and weighing about 50 kilos, be able to build such an imposing palace? It remains a mystery. Edward Leedskalnin only works at night, from midnight to dawn, always out of sight. A photo of him was taken near a winch made from three telephone poles, a tool certainly not enough to move rocks of such a weight. At the top of the winch is a sort of box: no one has ever known what it contained, but some are convinced that this is the key to the Coral Castle mystery.
Coral Castle mystery explained by anti gravity ?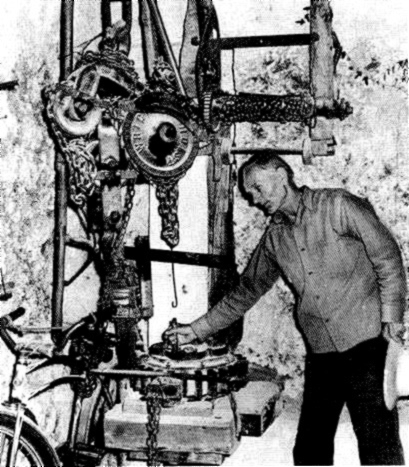 Today, we know that in addition to the winch, Edward used other strange objects such as bottles wrapped in copper wire and radio tuners. It took him almost twenty years to realize his dream of building Coral Castle, from 1920 to 1940. Some believe that Leedskalnin found a way to remove gravity and claim that some of his writings bear witness to it. According to some unofficial specialists, the secret to anti gravity stems from terrestrial magnetism: since all matter has magnetic properties, it suffices to wrap an object with copper wires, then send the right radio pulse to cancel its gravity. Thus, a 10 ton rock can be moved as simply as a sheet of paper.
The method would be well known to Tibetan monks. Eyewitnesses claim to have seen them moving huge blocks of stone thanks to the sound of their characteristic drums and their 3-meter trumpets. At the time, these theories were the subject of research by a number of scientists. It therefore seems likely that Ed Leedskalnin was aware of it. What is certain is that he contacts Nikola Tesla, a very controversial scientist. Born in Croatia in 1856, Tesla is probably one of the most brilliant scientists of his time. He is at the origin of several inventions and discoveries, but few of them were recognized to him. These include, among others, the theory of seismic waves, the first hydroelectric power station, devices for operating alternating current, fluorescent lighting. Some even say that he invented radio. When he died in 1943, the FBI sealed the results of all of his experiments, thus making the oblivion in which he lived permanent.
A mystery lost in the mists of time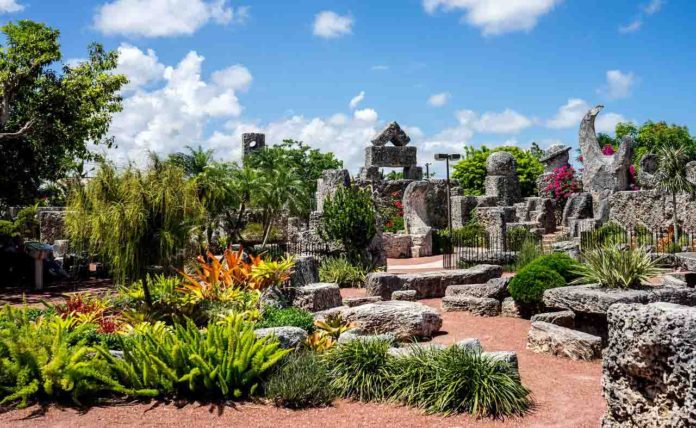 What method used Edward Leedskalnin to build his now famous Coral Castle ? As of today, we still do not have definite answers to the question, although recently it has been shown that small rocks can be lifted only by sound vibrations. However, as if by chance, Leedskalnin's neighbors said that they heard a very low vibration on the nights he worked ... Edward himself liked to confuse the issue by claiming that he used the same technique as the pyramid builders. He was referring to these places - ancient Egypt, Yucatan or Peru - where famous monuments have arisen, the construction technique of which remains a mystery.
The vibrations of matter
It has been proven that a large number of ancient monuments emit low frequency vibrations; among these, the obelisks of Karnak and the Great Pyramid of Giza. Stonehenge rocks amplify the sounds produced in their enclosure; in the Mayan city of Chichen Itza, the echo bounces from one place to another without the slightest scientific explanation; a sound produced at the base of the Pyramid of the Magician, in Uxmal, emits a kind of chirping at its top, to cite only a few examples.
But Edward Leedskalnin does much more than that. Suddenly, for unknown reasons, he decides that the site where he built Coral Castle no longer suits him. What is he doing? He simply moves it a few kilometers: from Florida City to Homestead. It goes without saying that he will never reveal to anyone how he did it. However, these two localities are both on the network formed by the Earth's magnetic field. What did Leedskalnin want to convey to us?
Coral Castle secret finally revealed ?
On his sixtieth birthday, Ed Leedskalnin decided it was time to reveal his secrets. On November 7, 1951, he invited a number of friends to Coral Castle. When they arrived, they found a message asking them to be patient, because, having suffered a slight discomfort, he had gone to the Jackson Memorial Hospital. Unfortunately, this slight discomfort revealed an incurable disease and Leedskalnin never returned to Coral Castle, taking with him all its secrets.
And what happened to her beloved Agnes? Ironically, she did not want to know anything more about Edward Leedskalnin or Coral Castle and she never set foot in Miami, despite repeated invitations from her ex-fiancé. In 1980, the State of Florida managed to find her, when she was already 83 years old. She was invited to Florida to admire the castle that Ed had built for her. But Agnes again declined the invitation, and thus rejected, definitively this time, the advances of her suitor.
John Worrel Keely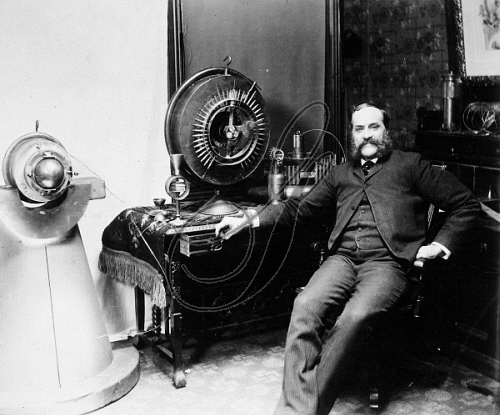 At the end of the XIXth century, John Worrel Keely discovered the means of lifting objects and breaking the stone by using the sound vibrations which are propagated via metallic wires. Illustrious witnesses witness his experiences, Jules Verne and Thomas Edison, among others. Keely also manages to find funding of up to $ 5 million, an astronomical sum for the time. However, he will refuse to reveal the secret of the technique used. After a disagreement with his patrons, he destroyed all of his machines. He dies poor and forgotten by everyone. Some esotericists are convinced that he discovered the Atlantean sidereal force, a terribly destructive force when it is used improperly.
The great works of love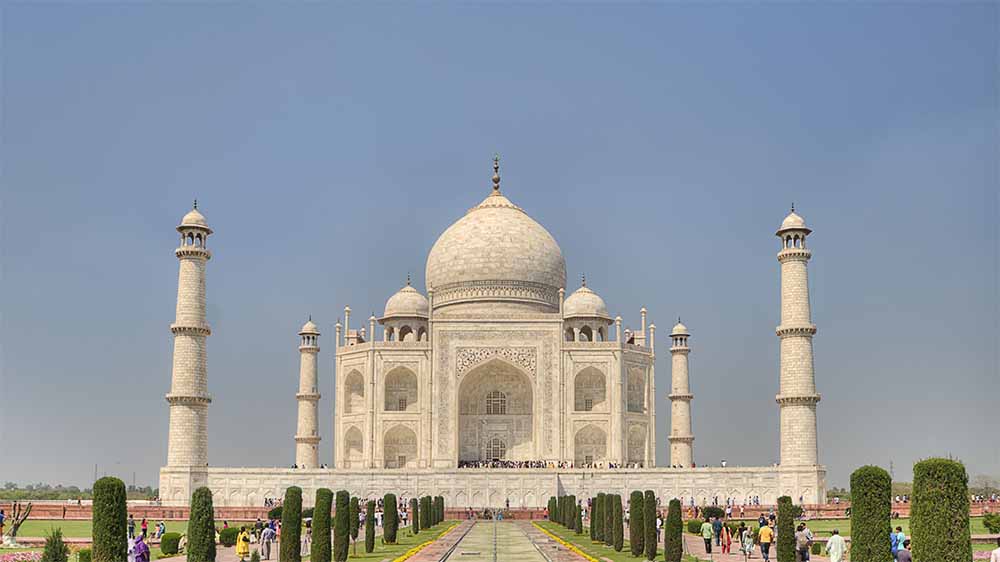 Man has often built great works, moved by the simple force of love. One of the most beautiful jewels of Indian architecture, the Taj Mahal, was built by King Shah Jahan in memory of his adored wife, the late Mumtaz Mahal. It is an imposing palace, entirely built of marble, stone and precious metals, most of which have unfortunately been looted over the centuries. The legendary hanging gardens of Babylon, cited among the Seven Wonders of the World, were commissioned by the sovereign Nebuchadnezzar in homage to his wife. More recently, the Château de Chenonceau was fitted out by Henri II for his mistress Diane de Poitiers, twenty years his elder. The castle is all the more beautiful as it spans the Cher. Sultan Suleiman II the Magnificent built a hammam in Istanbul to pay homage to Roxelane, the favorite of his harem. Unlike Coral Castle, no doubt made all the more fascinating by the mystery that surrounds it, all these works were built with the help of a large number of men and means.