Who Was Ötzi The Iceman Or The Similaun Man ?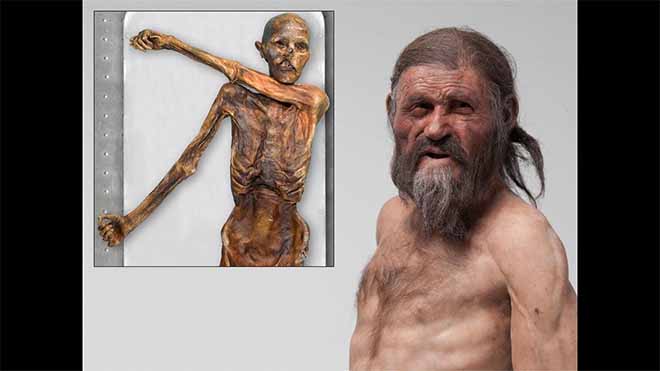 On September 19, 1991, two excursionists who left for the ascent of the Austrian Similaun glacier, at 3,300 meters above sea level, discovered in the ice a man frozen for more than 4 millennia. He is commonly known as Ötzi the iceman or the Similaun man. But the big question remain : Who was this man?
Tattoos and medallion
The two German walkers discover the following spectacle: a head and two shoulders emerging from the ice. Immediately alerted, the police quickly realize that this dead man is not ordinary: parched like a mummy, he has, literally, only the skin on his bones. Once the Similaun man extracted from his ice coffin, along with the objects which accompany him, witnesses realize that it is from the depths of the ages that he arose. Ötzi the iceman is in an exceptional state of preservation (soft parts, bones and skin well preserved). Male, he seems to be between 25 and 35 years old. His hair is brown and he wears it short. His body is tattooed. The tattoos were made with black pigments based on charcoal. They represent a cross above the left knee, spread out in a bracelet around the wrist and ankle, and in regular streaks in the lower back. Attached by a link of vegetable fiber to his neck, the man carries a small disc of pierced white stone. It can be a button or, more likely, a set, a kind of medallion. All these observations give us a striking vision of reality from the Similaun man. However, they say nothing about the conditions of his death. His body does not appear to have traces of a bruise or fracture. The wounds that can be seen behind the head seem to have been done after death. Perhaps they are due to raptors or scavengers.
Equipped for the mountain
The clothes that the Similaun man wears should allow him to face low temperatures. Leaving for the high mountains, he dressed warmly. His very well-sewn fur jacket, however, reveals coarse mending in places. Over this jacket, he threw a waterproof windbreaker cape, made of braided rods. His leather shoes are padded with straw to protect his feet from the cold. He has a large bow, about 1.80 meters and 14 arrows in his quiver. Two were also ready to serve since we found their points made of flint stuck with pitch and a tail of neatly arranged feathers. If Ötzi the iceman is a hunter, as this panoply seems to indicate, what game did he come to hunt at such high altitudes?
To transport the product of his hunt, he provided himself with a kind of wooden game bag, in hazel for the frame and in larch for the slats. In order to attach his prey, he also took strings of herbs and braided tendons. Part of this game was to be consumed on the spot, cooked in the hearth that the Similaun man lights in the evening, in order to warm up for the night and keep wild animals away. He has everything he needs to quickly make a fire: willow wood fire pieces, pyrites and tinder.
Was Ötzi the iceman a metal prospector?
He equipped himself for an expedition of several days since he took food: some cereals, wild plums, which indicate to us that it is then autumn, and pieces of meat. This last point is curious: if he provided himself with meat, it was because he was not certain of finding it on the spot. Was hunting really the main purpose of his expedition?
Another hypothesis makes this man a metal prospector. At the time, there were copper veins in the open air in this region. In addition to his hunter outfit, the corpse carries an ax, which he was still holding in his hand when he was discovered. This consists of a bent yew wood handle and a trapezoid blade. The blade is not of iron but of copper which, after analysis, showed some traces of arsenic and silver. Who was this man to own, in 3500 BC, such a precious tool? Axes existed, very numerous at that time, but they were of polished stone and, only in exceptional cases, of metal. The alloy of this ax is not very well made but testifies to the first trial and error of man in terms of metallurgy. At the belt, in a small satchel made of braided herbs, the man still carries a dagger with an ash wood handle, a flint blade, cut and unpolished: another strangeness because, this time, it's a tool of a coarse technique which was worth very little.