Swedish Stone Ship Settings of Gotland And Norway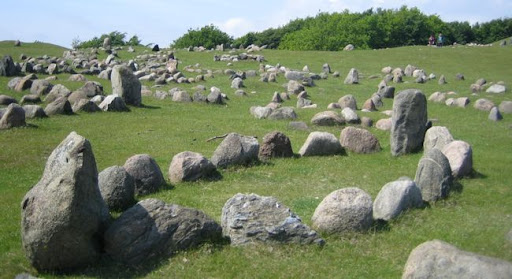 From the Iron Age to the Middle Ages, the large island of Gotland off the coast of Sweden played a major role: it was in fact an area of significant maritime transit in the Baltic Sea.
Ships have thus become a fundamental subject of the collective imagination, whether they are those of the mythical Vikings or those who, in the past, crossed the frozen seas with their loads of spices and precious goods. This is perhaps why we created in Gotland a real "boat cemetery": an enigma around which we obviously embroidered different hypotheses and which continues to make the heyday of debates between archaeologists. The island's ship setting are around 350: these are symbolic constructions made from standing stones which represent the silhouette of a ship with the bow at the top and the sides inclined.
It is in fact a model that recalls the Viking ships which the builders of these stone boats were certainly inspired by.
The numerous ship settings can reach extraordinary dimensions, like that of Gnisvard, which is 43 meters long and 7 meters wide.
The stone ships probably had a ritual function of which we know little: they were built to travel beyond the grave and therefore get lost in the myth where the waters of imagination flow.
Norway
To confirm the significant role of the stone ships, we can recall that there are other capital testimonies of the same kind on the artificial hills of Gokstad, Oserberg, Tune and Borre located along the Oslofjord. In Oserberg, under one of the ships, a woman was found - certainly of noble extraction judging by the objects found alongside her -, while in the others, we discovered the skeletons of men also accompanied by rich objects.