Göbekli Tepe Mystery : Age, Theories & Facts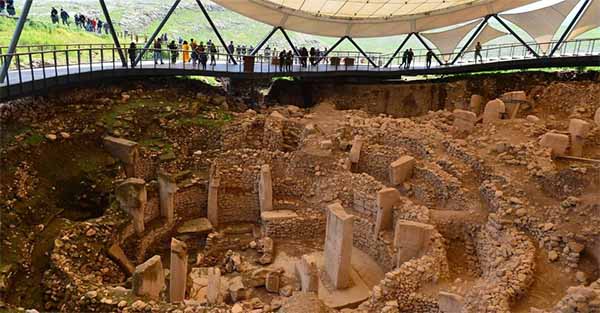 The oldest temple in the world is in Turkey: it tells us a different story about the origins of civilization.
In the south of Turkey, a few kilometers from the border with Syria, a hill shelters Göbekli Tepe, which means "the oldest temple in the world". About 11,000 years ago, its inhabitants observed the lands of Mesopotamia from there; they erected mysterious and colossal constructions in honor of gods with forgotten names.
Following the discovery of this surprising artificial hill, built 9,000 BC, and whose excavations did not begin until 1994, it was necessary to rewrite the history books: Neolithic men were not simple hunters living in caves decorated with primitive frescoes, they could build places of worship with sophisticated techniques that involved polishing and carving massive blocks of stone.
In Göbekli Tepe, a series of mysterious pillars have been unearthed, erected in a particular and unusual shape, "T". Some reach 6 meters in height and weigh over 10 tonnes: archaeologists believe there must be around 50 throughout the site, and their form may be the stylization of gigantic men. How could the inhabitants of Göbekli Tepe, 3000 years before the invention of writing, imagine, design and build an entirely artificial hill, 15 meters high and 300 meters in diameter, in order to pay homage to their gods? Likewise, a mystery hangs over the impressive number of bas-reliefs and sculptures representing plants and animals of all kinds (snakes, lions, scorpions, wild boars or bulls, for example); and there are also faceless anthropomorphic figurines and beings worshiped by the inhabitants of Göbekli Tepe and to whom they dedicated statues representing them in the form of winged men.
These are, according to some, ancient shamans; others recognize there the origin of the myth of the angels while still others suppose that there is a link with the legend of the guardians quoted in the Book of Enoch: according to this very old apocryphal text, written in Aramaic, the "guardians" - superior beings descended from the heavens - would have transmitted to the peoples of ancient Mesopotamia secret knowledge in matters of art and science, before disappearing. Another astonishing hypothesis would establish a link between the hill-sanctuary and the biblical Eden: various philological studies seem to suggest, in fact, a striking parallel between the places described in the Bible and the geographical and climatic structure of the Turkish site as it must have been thousands of years ago.
But beyond all extravagance, it seems that we are still a long way from piecing together Göbekli Tepe's puzzle. The very existence of the temple does not really mesh with a time when no other human civilization was capable of achieving a monumental megalithic work.
Jericho, considered the oldest city in the world, was built 1,000 years after Göbekli Tepe, while the megalithic site of Stonehenge was built some 5,000 years later. It seems that the knowledge acquired by the founders of Göbekli Tepe has disappeared into nothingness.
In addition, one gets the impression that the sacred hill was suddenly abandoned, around 8000 BC. And it seems to have been carefully covered with a layer of earth and stone varying in volume between 300 and 500 cubic meters. Could it be that people living in very ancient times and with knowledge superior to that of their time sought to preserve this sacred place to ensure that it reaches our present time?
It seems that all the answers are still buried underground. According to geomagnetic and ground penetrating radar surveys, there are at least sixteen megalithic circles that are still buried under the surrounding 22 hectares of land. And as Klaus Schmidt, the archaeologist who led the work in Turkey, said, only 5% of the site has been unearthed so far. The mystery of the world's oldest temple is sure to occupy more than a generation of archaeologists.