The Legend of the Mothman Cryptid Creature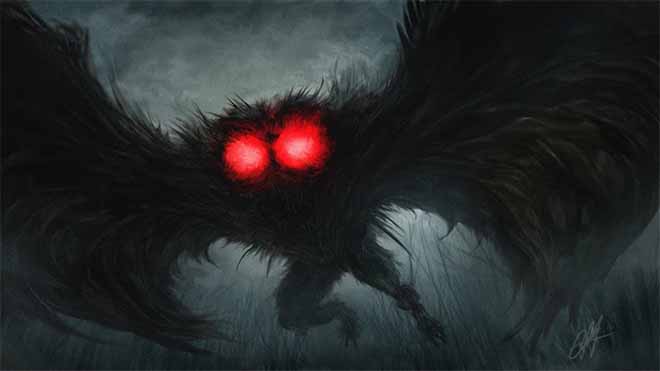 Endowed with a hypnotic red gaze, the Mothman monster is one of those legend creatures of this century which cannot enter into any framework of scientific explanation. Over a hundred witnesses claim to have seen this strange cryptid, half-man, half-bat, which, for more than two years, caused panic in the American state of West Virginia before disappearing in 1967, without leaving a trace.
The West Virginia winged creature
In 1966 and 1967, the American state of West Virginia was the scene of countless appearances of a gigantic winged creature, of an "animal" which is said to have suddenly emerged from the shadows. It has huge round eyes glowing in the dark, supposed to exert hypnotic power. Human-looking, the creature measures 2.10 meters and seems to have no head, its eyes resting directly on its shoulders. In its back fold two large wings which, when deployed, reach a wingspan of 3.50 meters. According to some witnesses, the Mothman creature would emit small squeaks, like those of a mouse. Gray in color, it moves on two legs, seems to have a colossal force and moves at a speed higher than 150 km / h according to witnesses who would have tried to escape it by car. But the animal would always have stayed at their height, flying over the vehicle. From the night of its first appearance, the entity was given its nickname, the Mothman.
Glowing eyes with a hypnotic effect
Several witnesses, including women during menstrual periods, were chased by the Mothman creature into their home. Some describe it as a huge bird; others, more like a huge bat, due to the absence of feathers and smooth skin. All the descriptions agree, however, on the large red eyes - the diameter of which would reach 5 centimeters -, seemingly endowed with paralyzing power. During one year, the multiplication of Mothman appearances generated a wind of panic, although nobody was ever injured. Several accounts report that at the end of 1966, for a week, large birds of strange appearance roamed Ohio and Pennsylvania. The press of the time then overflowing with a multitude of releases around the mysterious entity, it is difficult to know if they are true manifestations of Mothman or collective hysteria.
UFO protests and the appearance of Mothman cryptid
In his book The Mothman Prophecies, John Keel writes: "Whoever saw the Mothman also saw UFOs, and whoever saw them had contact with aliens". Each of these three phenomena was generally accompanied by discordant sounds, described by some as sharp peeps, for others these sounds looked like a magnetic tape passed at very high speed. The creatures spotted remain an enigma. On the one hand, they represent a biological aberration, because they are far too large to fly, and on the other hand, according to witnesses, they do not use their wings to fly, but move like a helicopter.
Over these two years, a total of more than a hundred people can attest to this "winged improbability", as Keel calls it. In 1975, in Texas, manifestations similar to those of the Mothman were reported. However, no information was collected on this subject. In 2001, the film The Mothman Prophecies, taken from the eponymous novel by John Keel, stars Richard Gere as the main actor.